What I'm finding 2 by Eleanor Bowen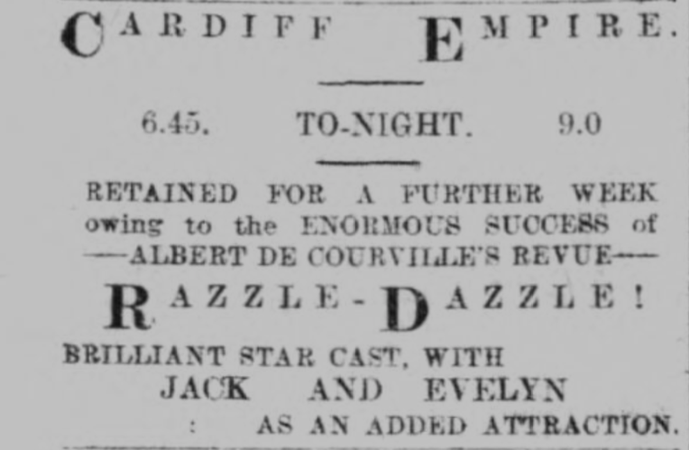 In this blog, Eleanor Bowen, who is researching her grandmother Gladys (Peggy) Simmons who kept a diary 102 years ago, in 1917, at the age of 23, updates us on her ongoing work. She shows how small references in Peggy's diary have opened up new lines of research and discoveries about performers and theatres. 
On Tuesday June 19 1917, Peggy and her theatre-mad friend Ruby had tea together at hers and travelled into the city centre to see George Formby at the (old) Empire Theatre, Cardiff. Her entry for that day was, as ever, brief and to the point:
 Tues Jun 19..Geo. Formby – killing!
Formby, father of the George Formby you're thinking of, was said to have inspired Charlie Chaplin. He was the first comic to use a delayed entrance as a joke to make the audience laugh before he appeared on stage, the orchestra playing and re-playing his entrance music while he failed to appear. His act included songs described as 'characteristically simple, some with tunes derived from Methodist hymns, and with catchy choruses' (Smart and Bothway Howard, It's Turned out Nice Again, 2011). He would chat to the orchestra conductor and front rows, punctuating his stage patter, delivered in a deadpan style, with his cough. He had suffered from tuberculosis and capitalised on his health by using this in his act as the butt of jokes, focusing particularly on this habitual coughing – 'Coughin' well tonight!' He also created the phrase, 'It's not the cough that carries you off – it's the coffin they carries you off in'!
Peggy saw George Formby again that month in Albert de Courville's revue Razzle Dazzle at the Cardiff Empire: on Thursday June 28. She went with Stanley Galt – the boyfriend who didn't become my grandfather! Amazingly, I found a notice in the Cardiff Times for the production she attended at the Empire Theatre, also featuring Evelyn Nesbit and Jack Clifford. 
A brief tangent…the history of the Empire Theatre, Cardiff (aka Levino's Music Hall, Empire Palace, Gaumont)
Professor Dolph Levino, famous for his mesmerism displays and his successful season at the Circus in Westgate Street, opened his own full-time entertainment hall in Queen Street in 1887. In April Levino's Music Hall opened, and his first night presented Dusoni's trained dogs and monkeys, Mr & Mrs Vahean's speciality act "The Human Farmyard", a cycling act, and Levino's own mesmerism display, all given with musical accompaniment. However, Professor Levino did not have a music licence, and the rival manager at the Philharmonic Hall quickly saw to it that the Professor was summonsed for the offence of illegally running a music hall. The magistrates let him off with a caution, and an instruction that all future activity at his Hall should contain no singing or dancing and no musical accompaniment. These restrictions made life very difficult, so the Professor closed his hall for two months, carried out some alterations and re-opened on November 7th as "Levino's Museum of Varieties" with a collection of curiosities, a picture gallery and waxwork displays all fitted around his non-musical mesmerism performances. However this did not have the same attraction as his former variety shows, and eventually he surrendered his lease to Mrs Stoll and her young son, Oswald in 1888.
With their 999 year lease at a charge of £175 a year, the Stolls proceeded to reopen the building with a newly granted music and dancing licence. Stoll's Empire Palace of Varieties opened on September 30 1889. In the meantime Professor Levino went off to America with his act). The Cardiff Empire opened on May 4th1896, with seating for 1000, playing twice nightly in a lavishly equipped and luxurious new theatre. The opening bill was Marie Loftus, the Three Sisters Wynne, Don Juan Caicedo, Master Herbert La Martine, the Marco Twins, Harry Chambers, Professor Parker and his Dogs and Harry Freeman. Fire destroyed most of this building on the morning of Tuesday October 31 1899. The fire broke out onstage around 5am, but within an hour had brought down the roof of the stage and the auditorium. Eventually only the front-of-house foyers survived. In an impressive act of damage limitation Stoll immediately hired the Panoptican, and the entire show was staged that same evening in its new venue – the performance being given whilst the Empire itself was still smouldering. The top of the bill at this time was Lottie Collins. Although he was not legally obliged to do so, Stoll gave immediate generous compensation to all the artists to enable them to replace personal property and effects they had lost in the fire, and there was a great scramble through the day to buy or make new costumes and props, replace musical instruments and get new orchestrations and band-parts ready for the evening's performance. He immediately set about re-building, and once more engaged Frank Matcham to come up with yet another new Empire Theatre. It reopened on September 29 1900 as the Empire Palace Theatre, this time with the seating capacity enlarged to 1,726. And this time it was said to have more fire-prevention installations than any other theatre in the country. Heading the bill on its opening night was Cissie Loftus, a family link, since her mother, Marie Loftus, had been the star attraction at the opening nights of the previous two Cardiff Empires. By 1915 the Stoll-Moss partnership had developed into one of the largest theatre organisations in the country and, trading as Moss Empires (with Oswald Stoll as its head) invested even more money in their Cardiff property, this time re-developing the theatre so that it could now accommodate 2,820 at each of its twice nightly performances. By 1917 when Peggy went, the Empire, Cardiff had been 'completely rebuilt as a music hall and variety house'.
Tuesday July 17. Alec's last night – Empire – Ellaline Terriss 
Ellaline Terris, Rotary Company London E.C. Photographer anonymous. (Company registered in 1898. Voluntarily liquidated in 1913.) [Public domain or Public domain], via Wikimedia Commons
Ellaline Terriss' stage career began when she attracted the attention of actor and theatre manager, Herbert Beerbohm Tree, and made her London debut at the Haymarket Theatre playing the role of Mary Herbert in 'Cupid's Messenger' (1888). English actor-manager Charles Wyndham was so impressed with her performance, he gave her a three-year contract. Following a substantial stage career, Terriss also appeared in several films, making the transition from silent films to 'talkies' – most of which, her husband Seymour Hicks, either wrote, directed or acted in.