Volunteer Research Team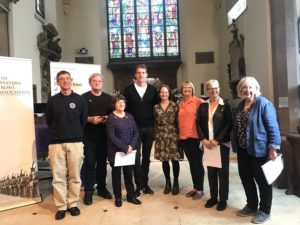 At the heart of the Great War Theatre project is a team of volunteer researchers. Over 200 people have volunteered for the project since 2016 and we currently have over 50 researchers actively working on the project from across England, Scotland and Wales. We are always looking for more people who would like to get involved.
To be a volunteer all you need is enthusiasm and curiosity. Our volunteers come from all sorts of different backgrounds, and you can find out a bit more about some of them below. If you're curious about what's involved, or would be interested in getting involved, you can find out more here.
Meet the team
Here are some of the reasons volunteers have chosen to get involved in the Great War Theatre project.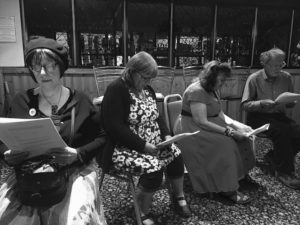 "I am a retired headteacher (and English and drama teacher) with some time available for volunteering. This project was perfect as it brought together a lifetime interest in the theatre and a long term acquired interest (rubbed off from my historian partner) with the Great War. Reading the plays and the Lord Chamberlain's comments was like time travelling to a lost world." (Eve)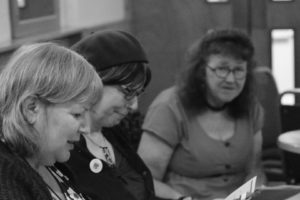 "I joined while completing my undergraduate studies as I wanted to practice and perfect the skills I was being taught so that my own research improved. In addition, I have an interest in the First and Second World Wars so looking at this period from a different angle and looking at the cultural impact of the First World War fascinated me" (Megan)
"I enjoy original research in archives – rather than on line. I have done a lot at the Scottish Registry Office and Archives and have researched personal genealogies and business histories – e.g. the coach builders who put bodies on early motor cars. I have always loved live theatre and visit various theatres on a regular basis." (Irene)
"After many years spent employed as a Librarian, I've just completed an MA in Public History at St Mary's University, Twickenham. I love theatre and I love researching, this project appealed because it combines the two to look at the First World War in a fresh way." (Tess)
"I am a early retired feature writer, life model, care manager, aged, queer, vegan. After a life long enjoyment with the theatre, I joined the Citizens Community Company. This, alongside my interest in Social History and my work for the EBU as an archivist, made being involved with the Great War Theatre research very interesting." (David)
"I joined this project after participating in the Legacy 110 project, visiting local schools to educate children about World War One. I wanted to participate in the project because I thought researching 'lost' plays would be an exciting way to develop my understanding of the war." (Trudy)
"I ran my own photography business for eighteen years before turning to my first love, writing. I have successfully written for stage and screen, and have recently produced two short films. My interest in both World Wars and theatre led me to volunteer for the Great War Theatre initiative. I have thoroughly enjoyed discovering World War 1 playwrights and their plays." (Jaye)
"I've decided to become involved in this project because of my newly found interest in history alongside a longs standing interest in drama. I am a social worker by training, so by the nature of my work I am fascinated by people and sociology/social history. My background has given me a good basis in analytical thinking and objectivity, which I am hoping I will be able to use in this project." (Karen)
"I'm involved in this project for several reasons. Among these are family history (As a teenager during the 50th anniversary of the Great War I learned that my great uncle had disappeared, like many, many others in battle, a pointless death which shocked me then and continues to perturb me even now); my current participation in a choir which researches and performs soldiers' and civilian songs which makes me reflect on the cultural impact of the war and how soldiers and civilians coped; and my ongoing research on the poet and dramatist John Drinkwater whose X=0 is a minor pacifist drama from 1917." (James)