Home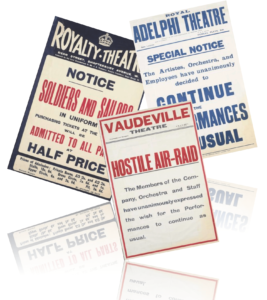 Explore the history of theatre during the First World War and discover long-forgotten plays using our extensive database.
During the First World War just under 3000 new plays were written and licensed for performance across England, Scotland and Wales. Over a quarter of these dealt with the war. Most of these plays have been long forgotten. However by reading, researching and re-staging them we can gain unique new insights into life during the Great War.
The Great War Theatre project is a collaborative research project in which academics and members of the public are working together to uncover the history of theatre and performance during the First World War. New data is added on a weekly basis. As of December 2020 contains data on 2,981 plays, 5,418 people (mostly playwrights and performers but also producers), and 1,816 theatres. You can find out more about the project's aims and methodology in the summary.
Using the Great War Theatre project website you can: