The Story of the Project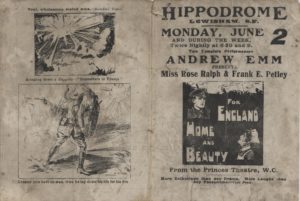 September 2014, Dr Helen Brooks (University of Kent) is beginning new research into plays set in the trenches and written during the First World War. As very few wartime plays were published, she goes to the British Library to read the original manuscripts. Since all theatre in Britain was licensed until 1968, at the British Library there is a copy of each script. Unfortunately there is no electronic catalogue  and Helen has to work through every play in the collection chronologically to find the ones set in the trenches. As Helen hunts for trench plays she keeps a spreadsheet noting interesting information on each of the plays she looked at. This includes where and when each play was first to be performed, what it was about and who wrote it.
December 2014, Within a few months Helen has made some fascinating discoveries. She is astounded by how many new plays were produced in the first few months of the war – spy plays, patriotic recruiting plays, comedies and more – and how many theatres across Britain were premiering them. Inspired by what she is finding, Helen wants to make these discoveries, and plays, available to the public, and decides to create a database so that anyone can find plays by searching for particular themes or theatres. Unfortunately, with thousands of new plays being written during the war Helen knows it will take years to complete a project like this.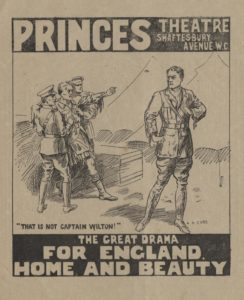 March 2015, The University of Kent announces its first internal funding scheme for 'Public Engagement with Research Projects'. Helen realises that the work she is doing could be developed into a public history project and that working with trained volunteers would speed up the process. She puts in an application for funding and keeps her fingers crossed!                                                                                                                
May 2015, Helen hears that she had won the funding and begins to plan how the project will work. She names it 'Recovering First World War Theatre'. As part of the project Helen plans to take two volunteers at a time (for two days each) to the British Library and give them hands on training in working with the play manuscripts.
October 2015, Helen puts a call out for volunteers. She soon discovers she has vastly under-estimated interest. Within a few days she has received more than 20 applications and this soon doubles.
January 2016, The project now has a team of over 40 volunteers in the team as well as a volunteer Research Assistant, Kristan Tetens, who has just finished her PhD into the wartime playwright Hall Caines. By volunteering her time, Kristan makes it possible to keep the project open to all volunteers who want to take part. Volunteers come from as far afield as Cornwall and Cumbria. Dates for the British Library trips are confirmed and the project kicks off.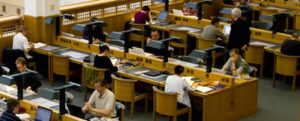 March 2016, Between March and July 2016 Helen and Kristan meet, train and work with the volunteers. Together Helen, Kristan and the volunteers record data on hundreds of plays. There are many enjoyable lunches in the British Library restaurant, and it is here that the ideas and questions which lead to the further development of the project are first voiced: 'How popular were these plays?', 'where did they tour to?' and 'who was in them', are just some of these questions asked.
September 2016, As the project comes to a close, 17 team members want to continue researching wartime theatre. They meet at Senate House in London and ideas for a second phase are developed. A plan is developed to build on the database of wartime plays which has been produced and to undertake detailed research on plays which were about the war. The group decided that 'phase 2', as it becomes known, will have two aims: 1) to trace where and when war-themed plays had been performed, and 2) to trace the authors of these plays so that copyright status can be identified. To support phase 2, Helen and the volunteers put together two collaborative grant applications.
December 2016, More funding! The Recovering First World War Theatre project is successful in winning a second grant from the University of Kent, Public Engagement with Research Fund, and a new grant from the AHRC Community Heritage scheme via Gateways to the First World War. As well as enabling the development of the website and database, the funding supports volunteers in attending the planned training workshops.
February 2017, A call is circulated looking for project volunteers and again the response is overwhelming. Within a month the project has over 100 volunteers and this creeps up to 200 over the next few months. With this incredible response, it is quickly decided that there will be no cut off date for volunteers but it will be a 'rolling' project. Additional funding from the University of Kent enables the project to be expanded.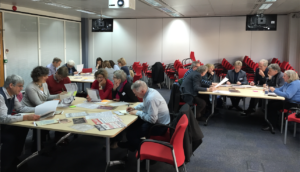 March – July 2017, The project is launched at The National Archives, Kew on 27 March 2017 with over 40 people attending. Following this, training workshops are held at Senate House, London; the University of Leeds; the University of Kent; the University of Bristol and the Citizens' Theatre, Glasgow. For people who can't attend any of the workshops, an online training package is developed. After completing the training, volunteers are each allocated a play and/or a playwright to research, and/or a play to transcribe. They then start to use the online resources provided to undertake the research. Before long the first results start to come in.
September 2017, Phase 2 is well underway, and the team decide to rename the project. 'Great War Theatre' is the popular choice and soon the website and database are being developed. The fantastic local Canterbury company, WeWriteTheWeb, with INK, develop the bespoke database and website.
December 2020, Over three years, the database has been populated with thousands of new entries. We have gained new volunteer researchers and been contacted by relatives of playwrights and performers who were active during the war. We continue to add new discoveries into the database.