Getting Involved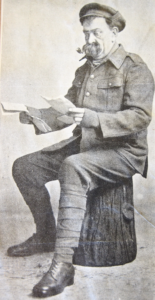 Are you interested in the First World War?
Do you like learning about theatrical and cultural history?
Would you like to do research on long-lost plays?
Are you interested in gaining new skills?
If the answer to any of these questions is "Yes" then the Great War Theatre project may well be for you. The project is always looking for new members of the public to join our nationwide team of over 180 researchers. It is a great opportunity to try something new, learn new skills and explore a largely
What will I be doing?
There are three types of research you can do as part of the project:
Researching a particular playwright. To do this you will be given access to a range of online databases.
Transcribing a specific play. To do this you will need to work at the British Library manuscripts collection (funding is available to cover out-of-pocket expenses).
Researching performances of a particular play. To do this you will need to use the online databases provided and you may also wish to visit local archives.
Is Training Provided?
Yes. Before you start your research you will be sent a training pack and links to online training videos. Throughout your involvement in the project, there will be constant support from the whole academic and volunteer team via our private Facebook group, our email list and local research champions.
How much time do I need to do the research?
As much or as little as you want. The workload is totally flexible and you can choose how much to do and when to do it. There are no deadlines. The most important thing is that your involvement in the project is enjoyable.
To find out more about getting involved contact us at GreatWarTheatre@kent.ac.uk