Supporting community research and projects
The Great War Theatre project, through Gateways to the First World War, is pleased to be working with a range of community groups and individuals exploring theatre during the Great War. A couple of examples of this work are shown below. To find out more about how we can support your project or research contact us. 
History HIT TV and the Western Front Players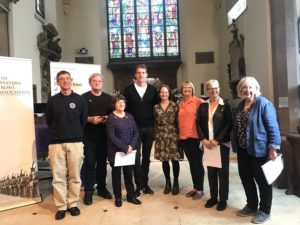 The Western Front Players is a community theatre group made up of members of the East London HLF Group. It developed after two of its members volunteered for the Great War Theatre project and wanted to take their research further by staging some of the plays they had come across. After staging a number of these plays, the group volunteered to perform a rehearsed reading of Tommy-by-the-Way for a documentary about community research fronted by Dan Snow and being produced by History HIT TV.
Theatre of War HLF Project: Kings Theatre, Portsmouth, 2017
Gateways to the First World War was delighted to be working in partnership with the Kings Theatre, Southsea, Hampshire. Gateways Co-investigators Professor Brad Beaven and Dr Helen Brooks and University of Portsmouth's Dr Mel Bassett worked with Katrina Henderson from the Kings Theatre on exploring theatre during the Great War. With help from Gateways, Kings Theatre received £9,900 from the Heritage Lottery Fund (HLF) First World War: then and now programme for their 'Theatre of War – The Kings Theatre Heritage Project.' The result was a multi-dimensional project which culminated in a gala where local school groups showcased their documentary, youth groups performed devised work about the war, and a local theatre group premiered full-length production of The Lads of the Village.