News
3 October 2018: Filming with History HIT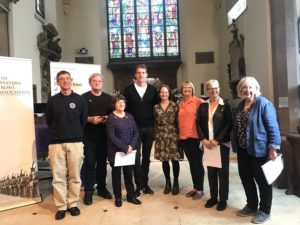 Helen and the Western Front Players were back at St Mary's Church, Walthamstow to film with Dan Snow. Over the day they filmed extracts from Tommy-by-the-Way and The Hem of the Flag for a new documentary. Helen also recorded an interview with Dan Snow about the findings of the Great War Theatre project which will be released as a podcast and as part of an upcoming documentary.
15 September 2018: Walthamstow First World War Open Day. Staging of Tommy-by-the-Way. 
Helen introduces the rehearsed reading of the play, presented by the Western Front Players, an amateur-drama group set up by members of the of the East London Western Front Association.
5 September 2018: 'Keeping the War Alive: Other Theatres of the 1920s' Theatre and Performance Research Association, annual Conference, Aberystwyth
Helen presents a 15-minute conference paper exploring 1920s performances of plays about and from the war.
Helen presents on post-war British theatre as part of this international colloquium in Belgium. The paper takes as a starting point the hopes, immediately following the armistice, that theatre will turn away from the war. It reflects on the ways in which British theatre developed in the years immediately following the war and consider the extent to which the post-war stage broke away from, or continued wartime theatre practices and how the post-war stage dealt with the recent conflict. To find out more about the colloquium, click here.
23 Apr 2018: The Hem of the Flag, staged reading, Inverness
Helen presents a rehearsed reading of Kenelm Foss's 1914 short play The Hem of the Flag for a Gateways event on women and the war.
15 Feb 2018: 'Theatre during the Great War'  (Western Front Association, East London Branch)
Helen presented at the East London Western Front Association meeting about Theatre in the Great War and researching First War plays. The evening included a rehearsed reading by members of the branch of J. M. Barrie's play The Old Lady Shows Her Medals. The Old Lady Shows Her Medals was first performed in 1917 and published in Echoes of the War in 1918. James Matthew Barrie, 1860-1937, was famous for writing Peter Pan or The Boy Who Would Never Grow Up in 1904, The Admirable Crichton in 1914 and Dear Brutus in 1917, as well as other war plays. For more information visit https://www.facebook.com/groups/711297599045495/ or follow @WFAEastLondon.